Vineyards are among popular vacation destinations, be it with friends or families. The lush landscapes and poetic beauty all around make it the perfect place to forget all your woes. At Germany's hidden delight, Moselle Valley, you will find scenic views around while sipping on some delicious German wine?
While Tuscany and Bordeaux are famous vineyards world over, Moselle remains known only among serious wine connoisseurs.
Moselle Valley is located in South-western Germany, centered in the Moselle river valley region. It houses several small charming villages with half-timbered homes and amazing Riesling vineyards. Unlike other popular destinations which have become commercialized over time, Moselle is filled with family-owned wineries where secret recipes and legacies are handed down from generation to generation.
The weather is usually on the colder side here, although April-June is among the warmer months. The wine styles here range from excessively sweet to bone dry. Riesling wine produced here is most popular for being light, fresh, and delicate with a fruity balancing acidity. Ideally, the wine contains 8% alcohol, making it easy for a person to finish off a bottle all by themselves.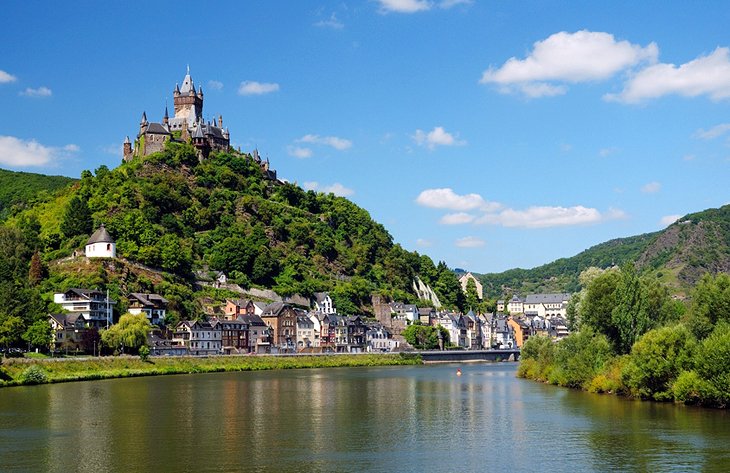 Off-late the warmer temperatures have allowed for natives to cultivate other grapes like Pinot Noir, but the region is predominantly filled with Riesling grapes, which are the base for most wines produced here.
The top places to visit here are –
Joh Jos Prum – This 12th-century vineyard is the most highly regarded estate in the Moselle. The family owned-run property produces wine which is highly regarded for its purity and age-ability.
Wehlener Sonnenuhr – The estate faces the town of Wehlen. It features a large 19th-century sundial after which the name 'Sonnenuhr' was bestowed upon it.
Zeltinger Ho Gasthaus Des – This is a 3-star property in the town with a huge list of wine in its cellar as well as an enthusiastic proprietor. (zeltinger-hof.de)
Bistro Bar Remise – A popular hotel which houses a 17th-century winery and has amongst its wings a long list of well-priced wine.
Traben-Trarbach – This beautiful river meanders around the towns of Moselle, just take a bike and pedal alongside to get lost in the beauty of nature.
So if you're a wine lover, a travel enthusiast or just a person looking to get away from the trials and tribulations of your daily lives, pack your bags and plan a trip to Moselle Valley right away!
Read also – Facts About Wine – They Are As Old As The Beverage